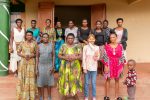 Seeds & Stories is a women-led group of artisans based in Bigodi, a rural village in Western Uganda, that uses fashion as a tool for women's empowerment and environmental regeneration. They believe the fashion industry can be transformed into a driver for social and environmental change.
Each product is made from a combination of innovative materials, modern designs, and techniques passed down through generations. Our artisans are empowered to use their skills to create beautiful products while preserving their cultural heritage and representing their region. As a result, the fashion items are an expression of the creativity and talent of their makers. We honor this practice by telling the story of each artisan in every product that is purchased.
The products are made in-house by our artisans, and we are deeply involved in every step of an item's creation, from farming to packaging. Clients can be sure that all seeds and stories fashion items are ethical, made in harmony with nature, hand-dyed and handcrafted, vegan, and made to last.
The materials are carefully selected to meet environmental values and goals. Seeds and Stories has a commitment to biodegradable, reused, or recycled materials. Please support them by purchasing their products here.