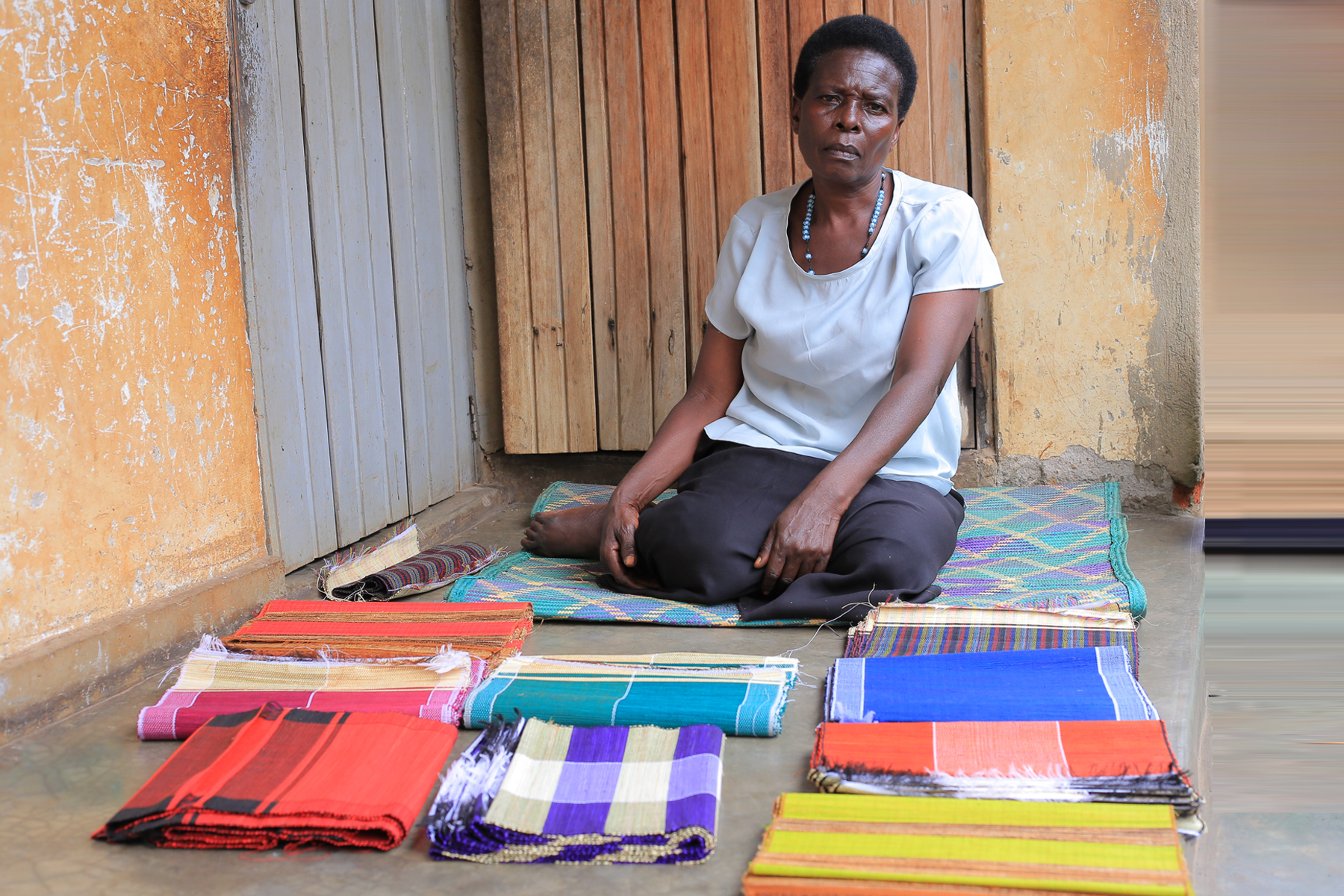 My name is Teopista Kizza, I am 63 years old, a widow, I live in Mukono and I weave  Raffia Tablemats. My raffia table mat-making journey started after my sister gave me the idea that art and crafts were profitable.
During President Idi Amin's regime, my sister was making hand-woven bed covers, so she motivated me to try out making table mats made out of raffia since it was the same production technique and raffia table mats were in high demand during that time.
I harvest raffia from a swamp in Nkokonjeru about 25 Km from my home. After drying, I dye them to desirable colors which are later used to make the Rafia Table Mats. In the process, I use handlooms which are man-made wooden machines to weave the table mats.
I currently work with my grandson as numerous girls who join me at work leave for jobs in Arab countries after a few months. Others, start off their small businesses at nearby food markets. It's hard to sustain them throughout the year because we do not have consistent orders throughout the year.
However, in seasons where there are bulky orders, the workload is too much and yet the labor is limited.
In a day, I make two sets of Raffia tablemats maximum as I have to juggle between house chores and production. Also, as a 60-year-old my strength has reduced so has my speed of production. Regardless, the youth can make at least 3 sets a day. A set has 6 small raffia tablemats and a table runner.
I have the passion to mentor and help more young women and men gain skills in weaving raffia tablemats but  I do not have the capacity to sustain all of them at the production center since I have to feed them, house them, and pay them.
If we get raffia tablemats orders that can sustain us through the year, there is hope for so many unemployed youths in Uganda. Through weaving raffia tablemats, I have been able to build my house, pay my children's school fees, and also support some of my grandchildren who are orphaned.